Kelsee Personal Page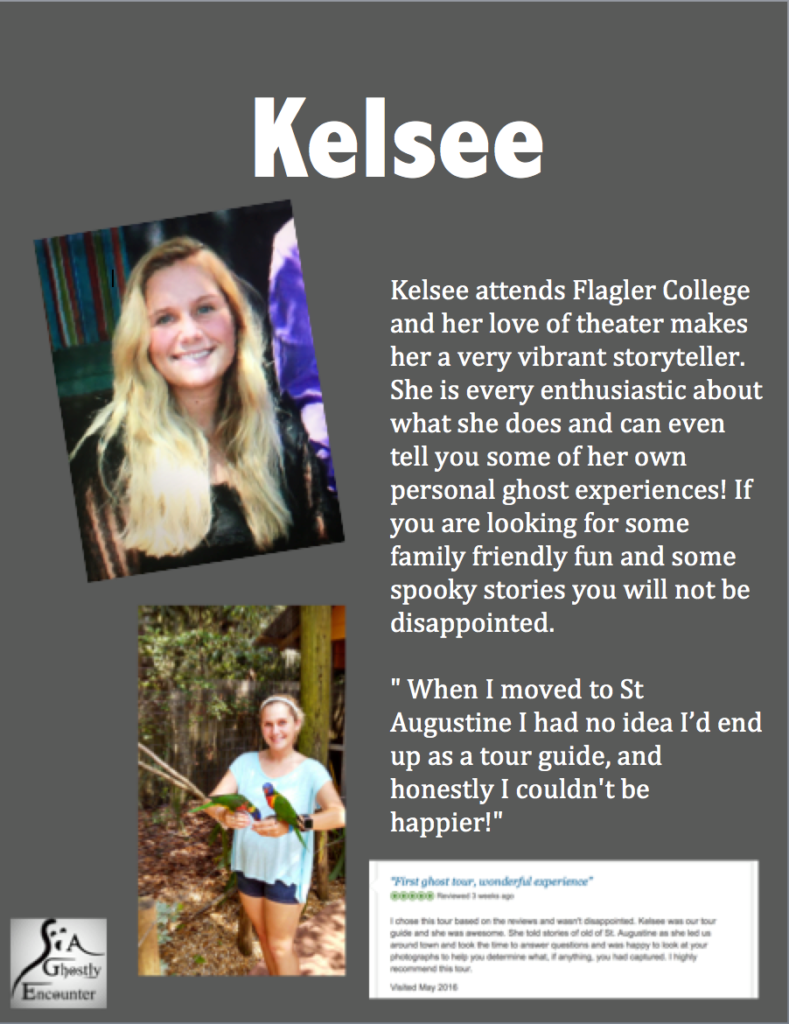 Some of Kelsee's latest reviews!
"Wow. . . Made me a believer"
6 days agoReviewed by routson89
Our tour guide, Kelsee, was very knowledgeable about all the local sites and had numerous creepy stories to tell. The tour was a blast and DEFINITELY worth the money. Pictured is a light anomaly that I caught on an iPhone camera at the cemetery where James is buried, which is the first stop on the tour. The next day, after showing the picture to family members, we sent the picture to a family friend who is also a psychic medium with the caption "check it out!". She promptly replied, describing the picture being of a kind hearted spirit belonging to a young child who was very curious about us. As someone who is normally a skeptic. . . this was just plain freaky. This experience was definitely worthwhile and made our trip to St. Augustine very memorable. Thanks again to Kelsee for the tour – highly recommended!
Reviewed 3 weeks ago
Fantastic!!
My son & I went on Kelsee's 8:30pm tour and she was absolutely fantastic! We caught more paranormal activity on my cell phone than ever before! She knew the right spots to snap away! Definitely going again!
Reviewed April 25, 2017 via mobile
Fun fun fun
I'm not usually a fan of ghosts and creepy things, but it had been on my bucket list to go on at least one ghost tour because it is my last year here in St Augustine as I'll be graduating. Kelsee was our tour guide and she was amazing. We had a small tour group so it was made more intimate, but Kelsee made the tour very conversational and engaged all the individuals on the tour. She knew her stuff and you could really tell how passionate she is about the history and spirits of St. Augustine. My friend and I were so engaged in one story that we actually jumped and screamed. Having Kelsee as our tour guide was such a great experience and I can definitely see myself going back!