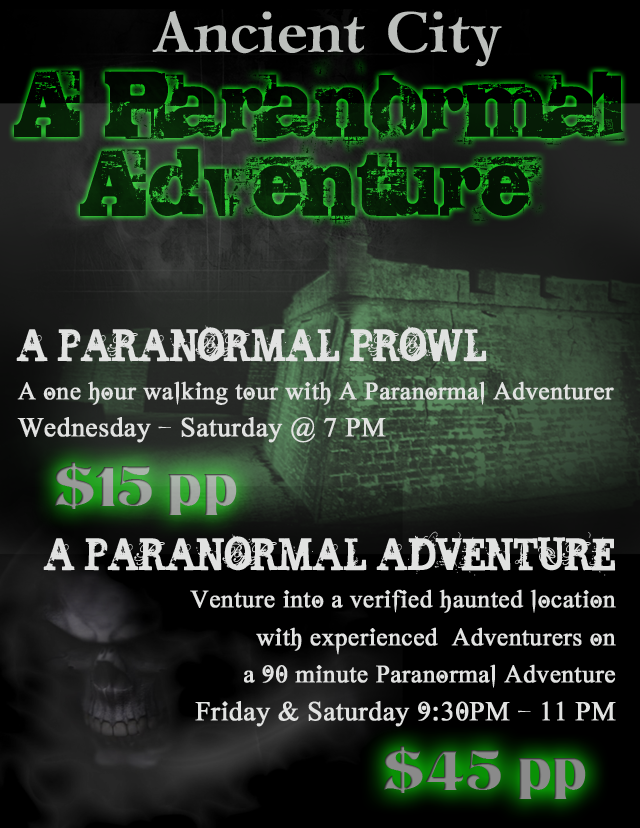 Local Paranormal investigators lead you on the tour of lifetime!
*All tours limited to 16 people.
Choose your PARANORMAL ADVENTURE TOUR
CALL FOR AVAILABILITY PRIOR TO PURCHASING YOUR TOUR
Tammy: 904-377-7723 or Jeff: 904-377-7724
To take advantage of a coupon, Military Family and the online purchase discount, please call or text 904-377-7723 or  email: AncientCityParanormalAdventurers and advise us of the number of guests, the date you would like to reserve & your email address.  We will gladly issue an invoice for the discounted amount.
A PARANORMAL PROWL ~ $15.00


Wednesday – Saturday @ 7 PM
A one hour walking tour with A Paranormal Adventurer. Join a local Adventurer on a prowl to historic locations such as the Castillo de San Marcos, the City Gates and local cemeteries.  Walk the streets where statesmen and pirates alike have met an early demise.  Attempt to capture unexplainable phenomena as your Paranormal Adventurer Guide shares tips, protocols, the best times & the best locations for ghost hunting in Historic & Haunted St. Augustine.  A Paranormal Prowl is a great tour for paranormal enthusiasts who are looking for an introduction to St. Augustine's most haunted locations.  At the end of your tour you will know where to look, what to avoid, and how to capture and affirm paranormal activity.
Limited Availability   ~   Reserve Early   ~   Bring your camera!
A PARANORMAL ADVENTURE ~ $45.00


Friday & Saturday 9:30PM – 11 PM
Venture into a verified haunted location with experienced Adventurers on a 90 minute Paranormal Adventure. Use state of the art equipment such as K-2 meters, infrared cameras and digital recorders just like you have seen on TV!  Enter the museum for your private time in 5 areas of the museum.  Lights out, door shut and cameras roll.  Use our equipment and attempt to interact and capture what is paranormal.  Use our parabolic dish, digital thermometers, and dowsing rods to see if you can confirm the activity.
Very Limited Availability ~   Reserve Early  ~  Bring your camera!
COMBINE TOURS & SAVE $$$ ~ $50.00
Take both tours and save! Combine A PARANORMAL PROWL & A PARANORMAL ADVENTURE for a full evening of Ghost Hunting!
RESERVATIONS ARE REQUIRED
CALL FOR AVAILABILITY PRIOR TO PURCHASING YOUR TOUR
~ Departure locations & routes change periodically due to guest requests, the weather & ongoing city events
~ Call for  locations, special event and/or group pricing
~ Unexpired COUPONS accepted on all tours
~ 10% Military Family Discount with Military ID
~ 5% Discount for Online Purchase
For Entertainment Purposes Only.  Age Restrictions apply for Paranormal Adventure Tour.
For more information about Paranormal Tours click here.
3 Responses to "Paranormal Adventures"