Explore Haunted St. Augustine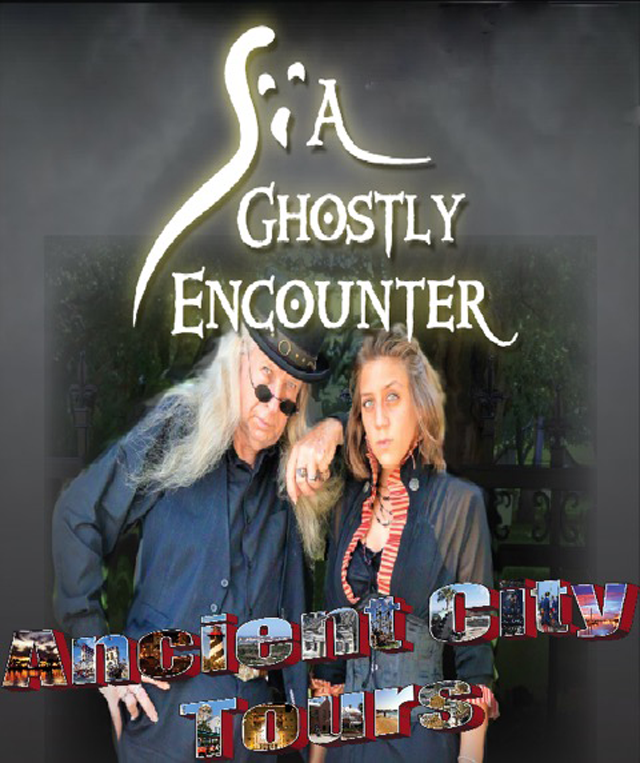 Join our Storytellers as they take you through the old city visiting some of their favorite haunts We begin in the Love Tree Cottage and then stroll the darken streets hearing stories of the long deceased residents who have not moved on, visiting (2) two cemeteries along the way and ending in the tour at the World Famous Love Tree to hear the legend of enternal love.
This is the only ghost tour in town that takes you into a Haunted building, so please join us, we are dying to meet you.
On
A GHOSTLY ENCOUNTER
Tour starts at 6 Cordova Street
FOR INFO CALL: (904) 827-0807 OR 877-606-3820
8:30 & 9:30 PM EVERY NIGHT
All tickets are $15/person 
Please call 904-827-0807 or 1-877-606-3820 if you have any questions about purchasing tickets online for A Ghostly Encounter.
Join us on the ONLY walking ghost tour to enter a certified haunted building and visit historical cemeteries. Walk the dark narrow streets of St Augustine and hear tales of those who came before us and refuse to leave.
If you want to contact us,  send photos or videos, please send them to
Email: contact@staugustineghosttours.net
Click here for INTERNET COUPON SAVINGS!
Call 904-827-0807 for additional information
What makes a Ghostly Encounter different from the other walking ghost tours?

•It is THE ghost tour that was featured on TNT's Liars and Legends, The Travel Channel, The Today Show as well as local ABC, CBS, and NBC affiliates
~~~~~~~~~~~~~~~~~~~~~~~~~~~~~~~~~~~~~~~~~~~~~~~~~~~~~~~~~~~~~~~~
Ancient City Tours is registered with the State of Florida as Receptive Operator License # ST23910.