Thank You to all of our FANS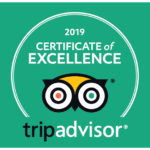 We really do not like to boast, but we were notified this morning that we have been awarded or 5th Certificate of Excellence by Trip Advisor, based on reviews by our customers.
We are so proud of all of our guides and staff who have worked diligently every day, every tour, to make an experience that our customers enjoy and rave about. Your dedication to your craft is obvious and we cherish each and every one of you.